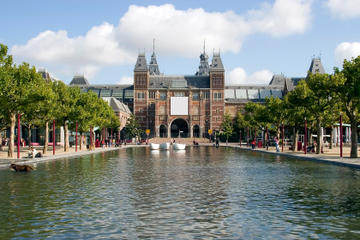 The Rijksmuseum, or National Museum, is the premier art museum of the Netherlands, and no self-respecting visitor to Amsterdam can afford to miss it. Key paintings from the museum's permanent collection can be viewed in the Philips Wing.
The collection includes some 5,000 paintings, most importantly those by Dutch and Flemish masters from the 15th to 19th centuries. The emphasis, naturally, is on the Golden Age. Pride of place is taken by Rembrandt's Nightwatch (1650), showing the militia led by Frans Banning Cocq. Other 17th century Dutch masters include Jan Vermeer (The Milkmaid, and Woman in Blue Reading a Letter), Frans Hals (The Merry Drinker) and Jan Steen (The Merry Family).
Other sections include Sculpture and Applied Art (delftware, dolls' houses, porcelain, furniture), Dutch History and Asiatic Art, including the famous 12th century Dancing Shiva.
Click here for: