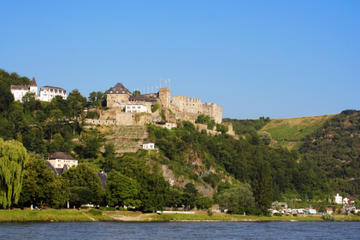 The busy riverside promenade of St. Goar is lorded over by the sprawling ruins of Burg Rheinfels, once the mightiest fortress on the Rhine and a must-see. Built in 1245 by the local counts of Katzenelnbogen as a base for their toll-collecting operation, it withstood attack from 28,000 of Louis XIV's French troops in 1692, just one of the many attacks made on it.
Eventually it was Napoleon and his French Revolutionary army who destroyed the place in 1797 with the help of explosives. The castle's size and labyrinthine layout is astonishing.
Not just children love exploring the gigantic vault cellar, subterranean tunnels and mine galleries, while keeping an eye and ear out for ghosts. In the only complete room of the castle there is a museum.
Click here for: